For our 2008 vacation (all 4 days) we went to The Black Hills in South Dakota. This is the story of our trip
17 September, 340km: The journey starts
We left late, of course, in part because Lars came home from work later than expected, but also because we have to go back for grandad's glasses. After we left at about 4pm, we drove up past Ft Dodge on the way to Storm Lake, where we ate our supper by a big playground on the lake. We also allowed the boys to run some energy off.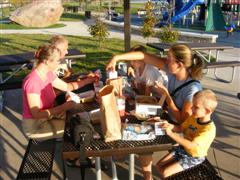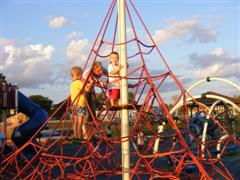 After Storm Lake we drove to Worthington in Minnesota and found a motel next to the Interstate at about 9pm. Half an hour passed before we got the kids to bed, so the rest of us were so tired that we all went to bed.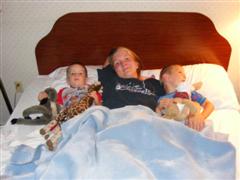 That looks very cozy in the picture, but since dad had to fit in there too, it was a bit of a tight squeeze. We only had two beds, so the boys had to share them with us. Ruben slept with Grandma and Grandad and Lukas and Xander with us.
18 September, 670km: Mt Rushmore
We left at about 8AM after a less than relaxing night. 2 beds are just not enough for 7 people. We found a supermarket (Go Hyvee), where we bought bread, butter, and cheese for breakfast, and took off toward South Dakota. After about an hour we found a rest stop, where we could eat our breakfast, then the journey continued. We had lunch at noon at Casey's Cafe in Chamberlain on the brink of the Missouri River. what a view!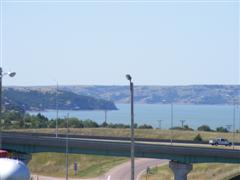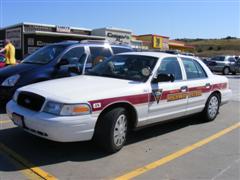 The journey continued and at about 4pm we arrived at Mt Rushmore. We chose to go in there right away instead of trying to find a place to stay. We didn't regret that decision. It is a very impressive monument.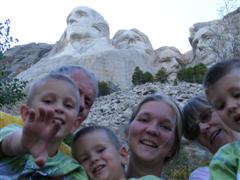 This was also where we found out, why they are called The Black Hills. The trees on the hills are a very deep green, so from a distance they actually look black. These are th only hills within a thousand miles that have any sort of forrest, so they are a little special.
After seeing Mt Rushmore we drove back to Keystone to find a place to stay. We got a room at a medium priced hotel with a pool, so Daniela and Lars jumped into the water after leaving the boys with grandma and grandad. The boys got they own pull-out bed so it was a little easier.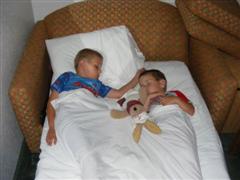 When we were done getting wet, and the boys slept tight, we pulled out the Rummikub game and played until we were so tired that we couln't see the pieces anymore.
19 September: Crazy Horse, Bear Country
Friday we got out of bed early and drove back to Mt Rushmore to see the exhibits that were closed yesterday afternoon. There was an exhibit about the history of the monument, which was good, and then we saw the model Gutzon Borglum used as the base of his work.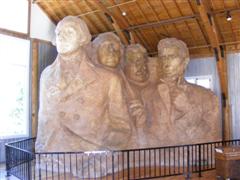 We left Mt Rushmore and drove over to the Crazy Horse Monument. This monument was commisioned by Chief Standing Bear in 1948 because he felt it was important to celebrate the native American heroes too. This monument will, when it is done, be about 5-6 times as big as Mt Rushmore.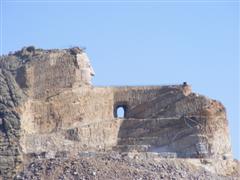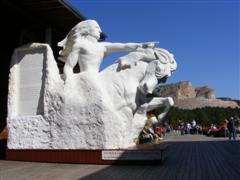 We had our lunch at the visitors center at the foot of the mountain after checking out the exhibits. It was better than expected.
When we were done with lunch, we drove to Custer and from there through Custer State Park to Iron Mountain Road. Along the way we saw a couple of buffalo, one of them close enough that we could take a picture.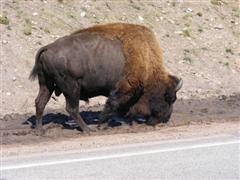 The afternoon coffee break was in Keystone, where we found a park with a little shelter. We took some pictures of the roof trusses for Anne to study.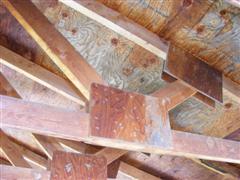 After the afternoon break the boys went to play, and we ran into a family that had evacuated from Houston because of Hurrican Ike. They told a moving story, and it was good to hear that they got power back that morning, so they could go home soon. When we had caught the boys, we drove up to Bear Country just outside of Rapid City. This is a kind of drive-through zoo wit just animals that are local to The Black Hills: Buffalo, Elk, Reindeer, Mountain Lion, Mountain Goat, and Fox.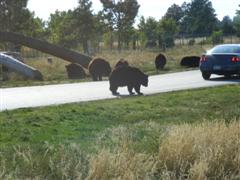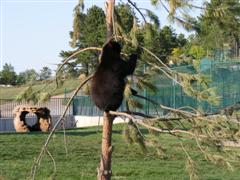 That evening we had dinner at a nice restaurant in Keystone, the food was really good. Back at the hotel the Althofs went to the pool while grandma and grandad watched. When the grandparents took the boys back to the room, we stayed long enough to find out that the jacuzzi wasn't working, then we went back too. The boys got tugged in, and Daniela took the grandparents back to Mt Rushmore to see it lit up in the dark. Lars also got to see it, but only from the hotel parking lot. We spent this evening playing Rummikub again.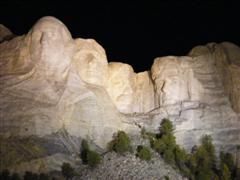 20 September, 480km: Rushmore Cave and the Badlands
We checked out from the hotel Saturday morning and drove down to Beautiful Rushmore Cave, which, although it took the name from the monument, has actaully been open to the public since before work started on the monument in the 20's. It was a good walk into the mountain, and the boys loved it, so now we know that we can visit other caves, here in Iowa for instance.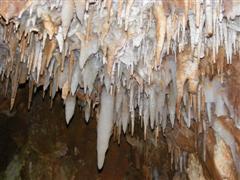 From the cave, we put the pedal to the metal until we reached the speed limit, and headed east. After about an hour we arrived in Wall, where we ate our lunch before going to the Badlands. The native Americans named this area, because they didn't like traveling through it at all. We, on the other hand, were very impressed with the colors and the mountains.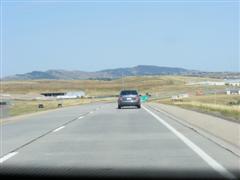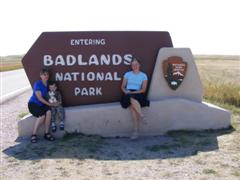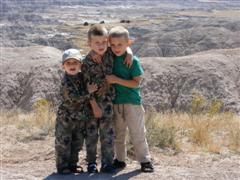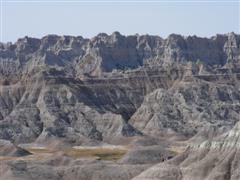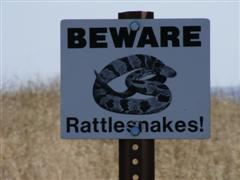 From the Badlands we headed on east. We might have gone a little faster than we should, but it wasn't until we got to Chamberlain that it almost went wrong. Lars spotted a cop that had pulled over another car, so Daniela tapped the brake. Seconds later we were passed by a black minivan and then a state patrol, lights flashing. That doesn't happen to us very often, so it took us a few moments to figure out that it was the other minivan that was being pulled over, and then Daniela had to step on the brake when the two autos passed through our lane on the way to the shoulder.
Well, from there on, we had no trouble all the way to Mitchell, where we went to see the Corn Palace. It is a local events center that is decorated with corn in new paterns every fall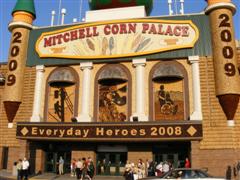 After dinner we spent the night at a hotel in Mitchell, which had both pool and water slides. The Althofs got wet again, while grandma and grandad watched from the balcony. We got the boys into bed and played Rummikub for the rest of the evening.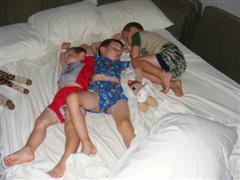 21 September, 545km: Sioux Falls and home!
After dipping in the pool in the morning we drove to Sioux Falls, where we saw the wate falls and had our lunch.
After lunch we zig-zagged down through Iowa down to Ames for 5½ hours.
Finally home! 2000km in 4 days, phew.
Revision: 1.0 Thursday 02 October 2008 - 19:45 Lars Althof